Companies have many founding moments. Founding moments are the key inflection points when leaders decide to change a path in order to better, or more quickly, realize their mission. We typically only think about the first founding moment, hiring a CEO, or the IPO, when in fact there are many. Today marks a founding moment for us: the decision to enter into an agreement for Microsoft to acquire LinkedIn.
Great companies have great missions. LinkedIn's mission has never wavered. Our mission is to connect the world's professionals to make them more productive and successful. As a professional, your network is your competitive advantage: in skills, in intelligence, in opportunities, in connection, and in collaboration. In this networked age, it is the key advantage. When you marry our mission with Microsoft's mission, to empower every person and every organization on the planet to achieve more, it's impossible to not imagine the massive opportunity for our members and customers.
It's natural to be surprised that we are so excited about being acquired. Most companies view independence as key to realizing their mission. This is why so many founders struggle with finding the right CEO and in some cases, the right buyer. There is some merit to their concern; if two companies aren't aligned on a mission, the combination will ultimately fail.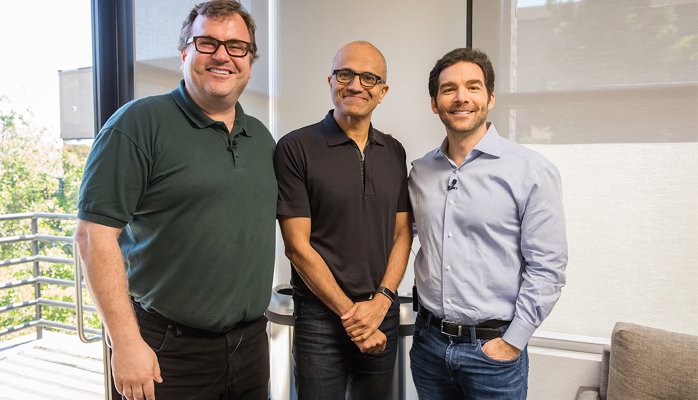 Because we are so completely aligned, joining forces with Microsoft amplifies our mission, and it amplifies Microsoft's mission. Bringing together the world's leading professional cloud and the world's leading professional network will help deliver a more connected, productive, and intelligent experience to our members and customers worldwide. It is our next re-founding moment.
Let me tell you what gets me so excited as we join forces. Think about what happens when we combine our network, our platform of identities with Microsoft's world-leading set of productivity tools, ranging from Office to Dynamics to Communications to Cloud to Windows to Cortana to Bing. Consider, for example, LinkedIn's network enabling Active Directory and integrating into Office Productivity. Consider, additionally, connecting LinkedIn identities to Outlook and Skype. Moreover, Microsoft has a great suite of technologies, such as artificial intelligence and Cortana technology, that can add game-changing new capabilities to LinkedIn.
Microsoft has also had a re-founding moment under Satya's leadership. Jeff and I have so much respect for the transformation he has driven. Satya and Jeff are natural partners and our organizations will thrive under the purpose driven cultures both have built.
Satya's leadership reflects great human and technological intelligence. Jeff is laser focused on realizing LinkedIn's full potential and purpose. Satya and Jeff share the same vision. They both practice leadership as service to the mission. They have both built and scaled organizations with intelligent, compassionate management.
Personally, I could not be more excited about what lies ahead. With LinkedIn, I've been through a number of re-founding moments – from the start of the company to bringing Jeff on-board. I believe we have found the ideal partner for our next chapter. When I co-founded this company 13 years ago, I imagined where we could go. I could not be more proud of what the LinkedIn team has achieved or more bullish about what we will achieve together with Microsoft in the years to come.
…And, as is customary in these matters, here's the legalese:
Additional Information and Where to Find It
In connection with the transaction described above, LinkedIn Corporation (the "Company") will file relevant materials with the Securities and Exchange Commission (the "SEC"), including a proxy statement on Schedule 14A. Promptly after filing its definitive proxy statement with the SEC, the Company will mail the definitive proxy statement and a proxy card to each stockholder entitled to vote at the special meeting relating to the transaction. INVESTORS AND SECURITY HOLDERS OF THE COMPANY ARE URGED TO READ THESE MATERIALS (INCLUDING ANY AMENDMENTS OR SUPPLEMENTS THERETO) AND ANY OTHER RELEVANT DOCUMENTS IN CONNECTION WITH THE TRANSACTION THAT THE COMPANY WILL FILE WITH THE SEC WHEN THEY BECOME AVAILABLE BECAUSE THEY WILL CONTAIN IMPORTANT INFORMATION ABOUT THE COMPANY AND THE TRANSACTION. The definitive proxy statement, the preliminary proxy statement and other relevant materials in connection with the transaction (when they become available), and any other documents filed by the Company with the SEC, may be obtained free of charge at the SEC's website (http://www.sec.gov) or at LinkedIn's website (http://investors.linkedin.com) or by writing to LinkedIn Corporation, Investor Relations, 2029 Stierlin Court, Mountain View, California 94043.
The Company and its directors and executive officers are participants in the solicitation of proxies from the Company's stockholders with respect to the transaction. Information about the Company's directors and executive officers and their ownership of the Company's common stock is set forth in the Company's proxy statement on Schedule 14A filed with the SEC on April 22, 2016. To the extent that holdings of the Company's securities have changed since the amounts printed in the Company's proxy statement, such changes have been or will be reflected on Statements of Change in Ownership on Form 4 filed with the SEC. Information regarding the identity of the participants, and their direct or indirect interests in the transaction, by security holdings or otherwise, will be set forth in the proxy statement and other materials to be filed with SEC in connection with the transaction.
This post was originally published here on June 13, 2016