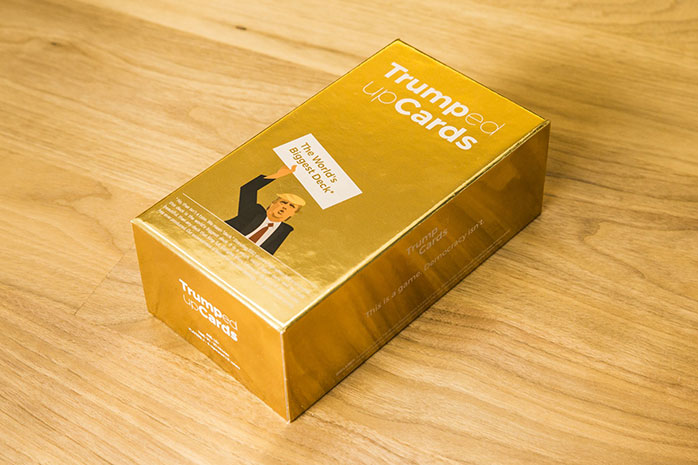 Inspired by The Daily Show and Last Week Tonight with John Oliver, we decided that satire that reveals the absurdity of our current situation is the only fitting response to these times.

Thus was born Trumped Up Cards: The World's Biggest Deck, a multi-player card game where players need really big hands to win.

Initially, we made Trumped Up Cards for friends, family, and anyone else who seemed like they had a healthy sense of humor and happened to be in the vicinity when we were giving them out as gifts.

The response was encouraging. Whether the recipients were Democrats, Republicans, independent iconoclasts, semi-indifferent middlecrats, change-the-world techno-utopians, or apolitical entrepreneurs, they said how much they enjoyed playing the game and that we ought to make it more widely available.

As a result, this public version now exists. At TrumpedUpCards.com, the World's Biggest Deck is now for sale for only $20.16. Act quickly, because after the election is over and a new year begins, we're raising the price to $20.17!

Any profits will go to charities that are already working to keep America great.
Read my full post at Medium.