Is physical retail doomed?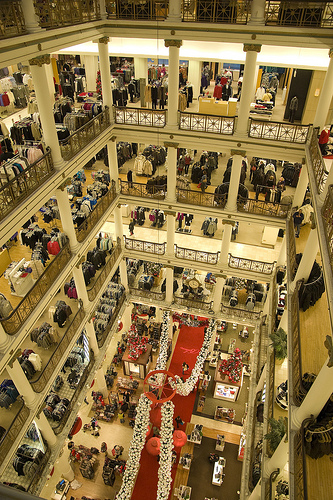 Last week, in conversation with Sarah Lacy of PandoDaily, Marc Andreessen argued that the retail industry is over.
In one sense, the impending transformation is clear to intelligent Silicon Valley insiders. In the same way technology disrupted the bloated cost structure of the newspaper industry, technology will inevitably disrupt huge swaths of the physical retail industry. Retail suffers from a heavy real estate cost structure, inventory management challenges, and a high cost of acquiring physical customers. This high cost-structure makes retailers vulnerable even to small decreases in revenue. E-commerce companies, meanwhile, boast broad inventory from warehouses, low prices, home deliverability, and amazing, fun customer experiences – look at a One Kings Lane. In particular, software tends to improve at the pace of Moore's law – enabling even better online shopping experiences in the future.
So it's easy to see why my friend Marc (among others) augur the eventual annihilation of physical retail.
But it's a mistake to think that the offline retail industry–which currently represents 95% of retail buying versus e-commerce's 5%–will shrink to next to nothing.
Retail Retailored
Software will not replace all offline retail, but will be used instead to transformcertain offline retail experiences. Software can bring more customers to the stores, increase conversion in the store, reduce overall costs for the retailer via better analytics on supply and demand, and — for the customer — create a radically better real life shopping experience.
Of course, one thing that I love about being venture capital futurists is that we can put our money where our mouth is. To elaborate, here are some Greylock software investments that are transforming the world of offline retail.
First, Shopkick explicitly deploys the power of smartphones to enhance your shopping experience. At home, you can identify the products that interest you and have those guide your feet – together with earning rewards in a unique universal loyalty program. As a testimony to its success, the app is already one of the 5 most widely used shopping apps in the country according to Nielsen (alongside eBay and Amazon.) It's software amplifying retail.
Second, Wrapp brings social commerce to retail, by enabling social gift cards on mobile. These cards spread through social action on mobile and social platforms, both for special occasions like birthdays and for more general purposes like corporate gifting. The Wrapp gift cards then bring you to redeem at retail locations. Software amplifying (and socializing) retail.
Third, Swipely brings easy analytics and marketing tools to local restaurants and retailers – for free, bundled with transparent payment processing at standard prices. These analytics can then can drive smarter communications, marketing offers, and loyalty programs. Here, software enhancing the retail experience for consumers through small merchant CRM and loyalty.
Fourth, Cardspring magnifies the capabilities of your payment credit cards. Retailers can create marketing and loyalty programs that consumers can add to their payment cards – and when the card is used at the specific retail store, the loyalty program automatically applies. Again, software that both moves customers to retail and enhances the experience.
Finally, Coupons.com moves the entire world of coupons to the digital world. Many millions of consumers deploy coupons every day – it's easier for them to discover, collect, and deploy those coupons via the internet than newspapers. Software driving retail engagement.
There are also examples of great entrepreneurs building software to facilitate online to offline retail transactions. After all, I can't dine out on my computer, but Opentable makes it easier to book a restaurant reservation. I can't receive medical treatments online, but Zocdoc makes it easier to book a doctor visit. My Macbook can't cut my hair, but Demandforce makes it easier to schedule a haircut. My Android phone can't drive me to the airport, but Uber can book a taxi. Again: Software amplifies and transforms an offline retail experience.
Software is clearly transforming the world, sometimes by "eating" it. However, where the digestion metaphor can choke ("eat this!") is that software really becomes part of the fluid genetic code of the real world. It's still the real world, just with software genetically embedded.
The important trend to think about is "software amplifies retail." I believe that old-fashioned retailers are on their way out. Innovative physical retailers will develop an interactive, in-store mobile overlay a la Shopkick, implement more sophisticated payment processing and CRM systems a la Swipely, and so on. And you'll see some otherwise "pure" e-commerce companies leverage the unique capabilities of physical commerce—like Warby Parker, which is investing in real world showrooms for its eyewear.
In short, software will disrupt and eliminate many traditional retailers, yet at the same time enable new innovations for retailers that can adapt to the future. The Start-Up of You becomes The Start-Up of Retail.
(Thanks to Ben Casnocha, Josh Elman, Hjalmar Winbladh, Angus Davis, Ron Johnson, and Cyriac Roeding for their feedback.)
(Image credit)
This article was originally published here on February 8, 2013
Photo by Artificial Photography